Delightful Dumplings
Three Dumpling Recipes for Chicken Soup or Stew
Reading Time: 5 minutes
How many of you have made homemade drop dumplings from scratch? How about rolled dumplings — have you tried making those?
The good news is that both are easy to make, really. I know they may look complicated but, honestly, they're fun and simple enough for kids to make, with guidance. There are a few techniques to follow and once you've mastered those, you've got this. The art of making dumplings!
Dumplings are so good cooked on top of soup or stew, or simply dropped into hot broth. The secret? No peeking while the dumplings cook! It's the steam in the pot that makes them rise so high.
I'm also including a recipe originating from my German mother-in-law for spaetzle. These "dumplings" are a popular item at German and Hungarian restaurants.
I guarantee you'll get "oohs" and "aahs" from those lucky enough to enjoy a batch of homemade dumplings.
CHICKEN STEW WITH DROP DUMPLINGS
Want a little heat in the stew? Use hot sausage.
Ingredients for Chicken Stew
1/2 stick (4 tablespoons) butter
1/3 cup all-purpose flour
1 teaspoon or so garlic, minced (1 nice clove)
2 cups chicken broth
2/3 cup milk
3 cups cooked chicken, coarsely chopped
1/2 pound sausage, cooked, drained and crumbled (optional but good)
10 oz. box frozen peas and carrots, thawed a bit
Salt and pepper
Instructions for stew
Melt butter in pot and stir in flour. Whisk over medium heat until it starts to turn a little golden, but don't let brown.
Add garlic, broth, and milk. Cook, stirring constantly, until slightly thickened, a few minutes.
Stir in chicken, sausage, and vegetables. Taste for salt and pepper.
Bring to a boil, and then lower to simmer, covered, while you make dumplings. Don't worry if it looks a little thin, the dumplings will thicken the mixture more as they cook.
Ingredients for Dumplings
Depending upon how wide the pan is, you may not fit all dumplings on top of the chicken. I have a second, smaller pan simmering with broth and that's how I cook extra dumplings. Or just cut the recipe in half.
2 cups all-purpose flour
1 tablespoon baking powder
1/4 to 1/2 teaspoon salt
Fresh chopped parsley or bit of dried parsley (optional)
Pepper to taste — a couple of dashes
1 egg, beaten slightly
1/2 cup milk
Instructions for dumplings
Whisk flour, baking powder, salt and pepper. Add parsley. Make a well in center. Whisk egg and milk together. Pour into well and mix with a fork. Dough will look shaggy and very sticky. Don't over mix.
Use a small ice cream scoop or tablespoon sprayed with cooking spray to drop dumplings carefully on top of simmering chicken, leaving some space in between for expansion. Put lid on. No peeking! Simmer 12-15 minutes, or until largest dumpling is done: cut in half to test. Dumplings expand to double.
Makes about 10-12.
Tip: For a richer dumpling, stir in 3 tablespoons butter into the milk and heat until butter melts
Tip from Rita's kitchen: Baking powder
Not sure if it still has leavening power? Put a bit in warm water — it should fizz up quickly if it's still good.
ROLLED DUMPLINGS
Ingredients
2 cups all-purpose flour
2 teaspoons baking powder
1 teaspoon salt
1/3 cup shortening
1/2 cup milk or little more if needed to make a stiff dough
Instructions
Whisk flour, baking powder and salt together. Cut in shortening with a fork. Make a well in the center and pour in milk. Mix together to make a stiff dough.
On a lightly floured surface, pat dough with floured hands to flatten it out. Roll out to about 1/8" thick. If necessary, sprinkle the top of the dough with very little flour to keep from sticking to the rolling pin.
Cut into small squares or strips.
Drop into gently boiling soup, stew, or broth. Put lid on and don't peek.
Dumplings should cook in about 10 minutes. They will puff up almost double.
RITA'S SPAETZLE
Can be doubled if you like. My mother-in-law, Clara, patted hers out on a cutting board, then scraped the dough off in pieces with a knife, letting the pieces drop into the gently boiling broth, soup, gravy or stew.
Ingredients
1 large egg, beaten lightly
1/3 cup milk
2 tablespoons melted butter
1 cup all-purpose flour
Salt and pepper to taste
Boiling broth, soup, gravy or stew (I used a quart of chicken broth)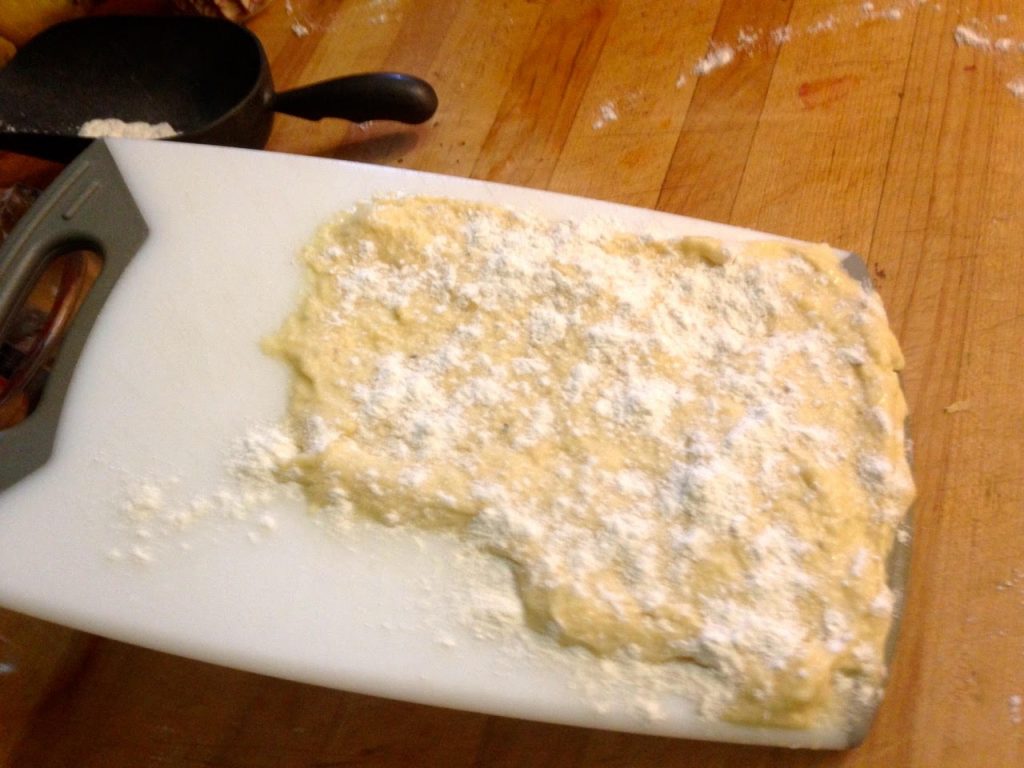 Instructions
Whisk eggs and milk together and stir in butter.
Place flour, salt, and pepper in a separate bowl and make a well in center.
Pour in milk mixture and whisk until smooth. Batter will be wet.
Two ways to make spaetzle by hand:
Sprinkle a small cutting board with flour.
Dump dough on and smooth to about 1/4". Sprinkle with a little flour.
Take a knife and cut/scrape through dough into little pieces, dropping them into broth. You'll get the hang of it after a few tries.
Or scoop up dough in a tablespoon and then take a knife or another spoon and drop little pieces of dough into broth.
When they rise to the top, they're cooked.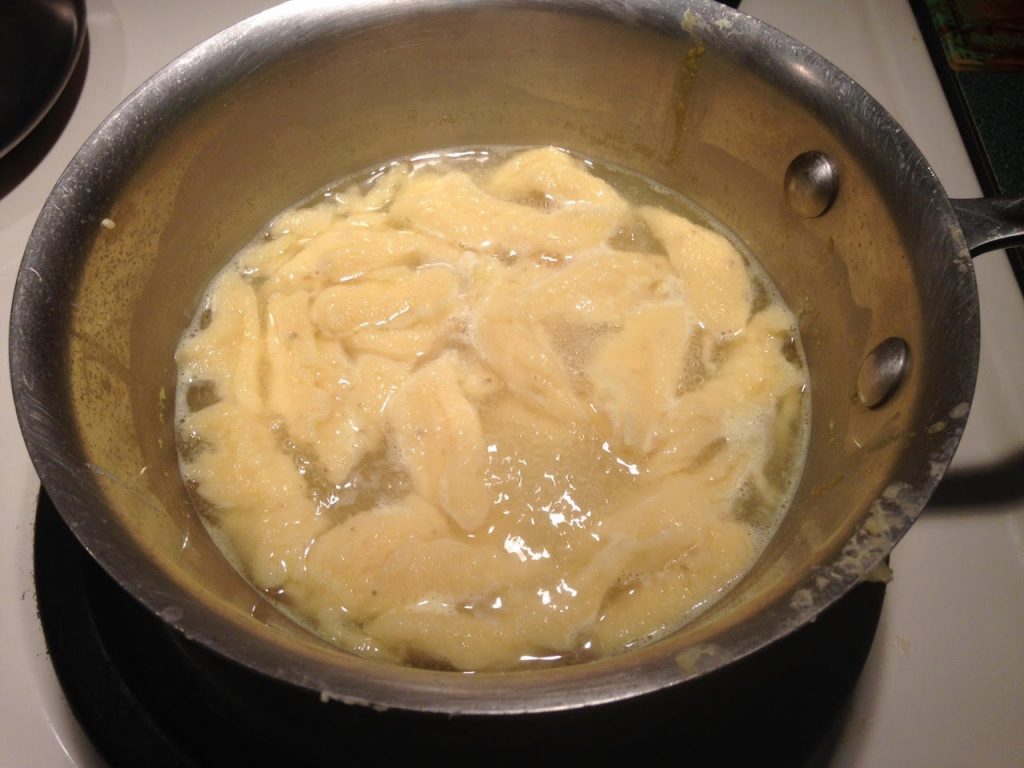 To serve:
Scoop out and serve as a side dish like noodles, or serve as a soup in the broth. You can also add cooked chicken and/or fresh chopped greens to the broth. As a soup, it's nourishing and filling for someone who feels a bit under the weather. I like to sprinkle fresh parsley on top.
You can also fry the cooked spaetzle in butter.
Originally published in the February/March 2020 issue of Backyard Poultry and regularly vetted for accuracy.